Atlanta Violent Crime Attorney
Representing Defendants Throughout Georgia Since 1975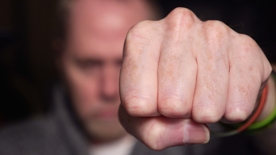 If you have been accused of committing any type of violent crime, you could face misdemeanor or felony charges. Depending on the alleged offense, you could face years, decades, or even life in prison. The death penalty may be imposed for capital felonies.
At Michael Moran & Associates, LLC we believe every person, no matter the charge, deserves the full protection of the U.S. Constitution. We believe in making sure our clients are afforded every protection our great country's criminal justice system has to offer. Our Atlanta violent crime lawyers fight for our clients' rights and protect their freedom, and we have been doing so for over 40 years.
Challenging Violent Crime Charges in Georgia
Examples of violent crimes include:
Assault
Battery
Robbery
Weapon-related charges
Manslaughter
Violent crimes involve the attempt, threat, or use of violence against another person, and depending on the extent of attempted or inflicted injury, may be charged as felonies. Many violent crimes have mandatory minimum sentences, and prior convictions can heavily impact future convictions and sentencing.
In challenging charges of this nature, our Atlanta violent crime attorneys may consider such issues as:
An act of self-defense or defense of others
A case of mistaken identity
The wrong suspect identified in a police line-up
False allegations made for reasons of anger, jealousy, or revenge
Insufficient physical evidence of the crime
A violation of search and seizure rights
Mishandled evidence or evidence unlawfully obtained
Every case is different, but a detailed investigation can reveal pertinent information and evidence that could turn things in a defendant's favor. Michael Moran & Associates, LLC's goal is to meticulously prepare and investigate so nothing is missed.
We serve all of Georgia, including Pike, Clayton, Gwinnett, Douglas, Carroll, Coweta, Fulton, Rockdale, Henry, and the surrounding counties.
Find out more about challenging charges by contacting our violent crime lawyers in Atlanta at (404) 205-8879 or online.