Atlanta DUI Attorney
Helping You Avoid the Many Consequences of a DUI Conviction in Georgia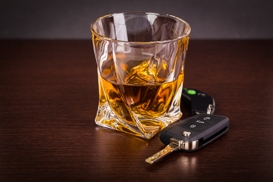 DUI, or driving under the influence, is a criminal offense that involves operating a motor vehicle with an unlawful amount of alcohol in one's system or while one's abilities are impaired by alcohol and/or drugs. While a first-time DUI offender may avoid jail altogether or may only serve a short time behind bars, there are fines and other consequences to consider. A DUI conviction may result in increased insurance rates, the need for an ignition interlock device in one's vehicle, and/or the loss of driving privileges for a year or more.
At Michael Moran & Associates, LLC we work to help clients avoid all of the various consequences of DUI arrests and convictions. Our Atlanta DUI attorneys can handle criminal court proceedings as well as your administrative license suspension (ALS) hearing with the Georgia Department of Driver Services. We will fight to help you keep your license and avoid a conviction.
Our Atlanta DUI lawyer handles cases in Pike, Gwinnett, Paulding, Carroll, DeKalb, Cobb, Fulton, and across Georgia involving:
First DUI offenses
Second and subsequent DUI offenses
Breath or blood test refusals
DUI causing injury (serious injury by vehicle)
DUI causing death (vehicular homicide)
DUI with a minor in the vehicle
Driving under the influence of drugs
Implied Consent & DUI in Georgia
When you sign for and receive your driver's license, you give your consent to submit to chemical testing if you are arrested on suspicion of DUI. This is referred to as "implied consent" and is behind the license suspension associated with DUI arrests. An unlawful blood alcohol concentration (BAC) of .08% or greater or a refused breath or blood test may result in license suspension under Georgia's implied consent law.
Don't Wait to Call an Atlanta DUI Lawyer
You have a limited amount of time to request an administrative license suspension (ALS) hearing with the Georgia Department of Driver Services. You have 30 days from the date of your arrest, and failing to request a hearing within this timeframe may result in the loss of your right to challenge license suspension.
Make sure you call an Atlanta DUI lawyer as soon as possible if you've been arrested for driving under the influence. Early involvement by a skilled Atlanta DUI attorney can make all the difference in whether an effective defense can be mounted on your behalf.
Give our Atlanta DUI attorney a call at (404) 205-8879 to discuss your case.