Atlanta Drug Crime Lawyer
Challenging Drug-Related Charges Across Georgia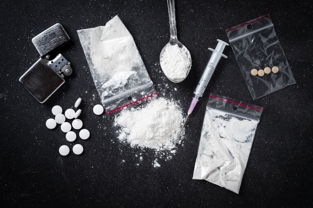 Controlled substances, including illegal street drugs as well as prescription drugs, are subject to specific state and federal laws regarding their possession, use, distribution, and more. A person may face criminal charges and harsh penalties for violating these laws. Such penalties may include imprisonment and fines, as well as the forfeiture of property allegedly related to or purchased with money associated with drug sales.
At Michael Moran & Associates, LLC we believe in fighting for those who have been arrested for and accused of drug-related offenses. Our Atlanta drug crime lawyers represent clients throughout Pike, DeKalb, Fayette, Newton, Rockdale, Coweta, Spalding, and the surrounding counties. We handle drug cases in state and federal courts across Georgia. If you've been arrested, we are prepared to put decades of legal experience on your side.
Is Possession Of A Controlled Substance A Felony In Georgia?
Georgia drug possession laws are treated very seriously and a conviction for possession of even a small amount of an illegal drug can subject you to serious penalties. There are numerous types of drugs in Georgia, and they are broken into classifications called Schedules. Depending on what schedule your drug belongs to can have a major impact on the penalties you will face. No matter what Schedule the drug falls under, do not underestimate the severity of the charges.
Contact our firm at (404) 205-8879 to discuss your drug charges during a free telephone consultation.
Types of Drug Crimes & Their Penalties
Our firm has been serving defendants and arrestees in the face of drug charges since 1975.
We have truly seen it all and use this experience to provide more effective counsel in the face of charges related to:
Drug possession
Possession with the intent to sell
Possession of drug paraphernalia
Drug manufacturing
Drug cultivation
Drug distribution and trafficking
Drug sales to minors
Drug manufacturing
Prescription drug crimes
Depending on the unique situation, the penalties for a drug crime will vary based on:
The classification of the controlled substance (drug) involved
The amount of drug involved
The nature of the offense
The defendant's criminal record, if any
When it comes to drug charges, there is no substitute for aggressive and experienced defense counsel. Involving an Atlanta drug crime attorney is the best thing you can do to protect your freedom and interests, and we are standing by to see how we can help you.